Words matter. They help us understand each other and the things around us. Sometimes well-intentioned people do not know how to talk about disabilities and accidentally use language that is offensive. The common words of today may become offensive at a later point in time as more self-advocates discuss how those words make them feel.
As a general rule, language about individuals with disabilities should reflect that which is used by self-advocates to describe themselves. Occasionally, self-advocates don't agree on which words are best. For example, some people on the autism spectrum use identity-first language ("I am autistic"), and other people use person-first language ("I am a person with autism.") Judy Endow, a well-known self-advocate on the autism spectrum, discusses some of the reasons in this article while highlighting what is most important:
"Rather than seeing the polarized language of person with autism and autistic, I see a unifying construct. I now see that when Kathie Snow invited us to use person-first language she was actually inviting us to come into a person-first attitude. And it is this person-first attitude that unites the word usages of person with autism and autistic. We all want to be included in the human race." – Judy Endow
To promote understanding, here is a "cheat sheet" that describes why some words should never be used (in red), why some words may offend someone (in yellow), and a few options that most self-advocates promote as acceptable language (in green).
---
Objectionable/Offensive Terms

Sometimes Objectionable Terms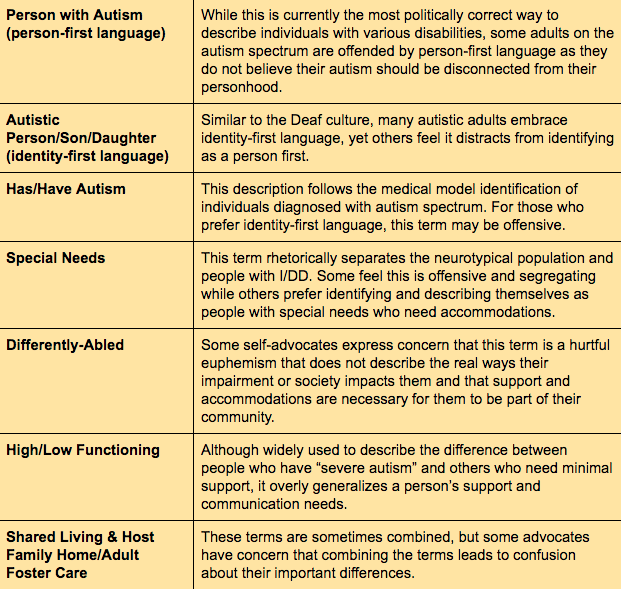 Acceptable Terms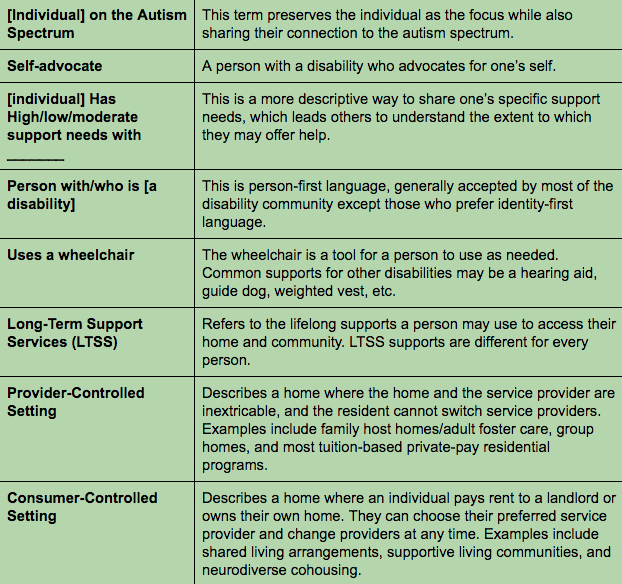 ---
View our Facebook Live Discussion: "Words Matter: Talking About Disabilities"